We're proud to say we've been in the hospitality industry for over 18 years of combined experience and managed by an award-winning team that operates FoxFire in Geneva, IL.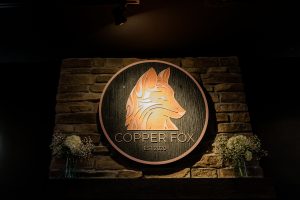 Owners Curt and K.C. are now bringing that same expertise and quality to the Copper Fox, making it an ideal event space for groups large and small.
The Copper Fox is a newly-renovated banquet hall in historic downtown Geneva ideal for weddings, receptions, private parties and special events. With two unique dining rooms to accommodate your party and guests, the Copper Fox also features a craft kitchen and bar. Our experienced catering staff will coordinate with you to create a menu custom to your needs. In addition, we can create a wine and cocktail list to suit the tastes of all your guests.
The Copper Fox is a large, versatile event space with beautiful lighting and a new audio/visual system for showing presentations at your wedding reception.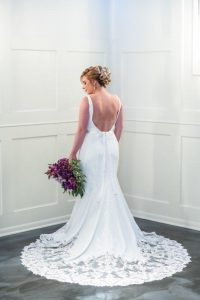 Board Room
The Board Room is an intimate room perfect for business meetings with audio visual. It is also a delightful room for a rehearsal dinner or shower for groups of 30 – 80.
Grand Room
 Our banquet hall is an elegant white room with crystal chandeliers. It has a private bridal suite perfect for your bride to get ready before her big day. Our room comes with a private bar. It can host any event that is 75-200 guests.
Craft Kitchen & Bar
 Open to the public. For the bar we're doing some really nice mixology. You can get your old fashioned to some amazing wine from our wine list that will have wine by the glass that are usually bottle only. KC Gulbro and his sous chef, Nate Gallas will have a menu that's going to feature some international flair and some great American comfort food.
477 S. 3rd Street, Suite 190
Geneva, IL 60134
1-630-345-6328
copper-fox.com