The Lemon Drop hails from the painfully beautiful San Francisco, where it was created by Norman Jay Hobday, owner of the iconic bar "Henry Africa."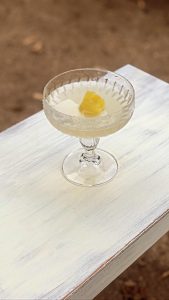 Hobday is credited for creating the worlds first fern bar. "Henry Africa" opened in 1969 and, lacking funds to remodel the space, Mr. Hobday decided to bring in a lot of plants to add life to the bar. The idea worked incredibly well.
The origins and décor are wildly important to the Lemon Drop cocktail's inception. I don't believe we would have this great cocktail without "Henry Africa's" creative atmosphere.
Fun facts:
The Lemon Drop is not a martini, it's a crusta. The crusta is traditionally a brandy-based sour incorporating a sugared rim.
Inspiration for this cocktail came from the lemon drop hard candy.
Norman Jay Hobday legally changed his name to Henry Africa, and never changed it back.
Here's our fun and subtle take on a classic! Enjoy the good vibes !
 ~ 2 oz ketel one
 ~ .5 oz lemon juice
 ~ .25 oz Bardini Cedro liqueur
 ~ .25 oz simple syrup
 ~ 1 dash organic vanilla extract
 ~ Sugared rim and lemon peel
Add all ingredients to your shaker tin, add lots of ice and shake for 15 seconds, fine strain into chilled coupe/martini glass with sugared rim and lemon peel. Original recipe Vodka, Orange liqueur, fine sugar, Lemon juice, and sugared rim.