Must try appetizers, entrees, desserts or cocktails available at local Fox Valley restaurants. 
Taco Tuesday Special
All of 1910's signature tacos are half priced this night! Left to right: El Macho, Maui fried fish taco with a tropical fresh pineapple slaw on top, Kojo Short Rib taco, (bottom plate) Esquites taco and a Maui grilled fish taco with a fresh tropical pineapple slaw on top!
1910 Geneva
30 W. State Street, Geneva, IL 60134, 1-630-845-9100
Fish Fry Fridays
Georges Bank Haddock $19.95 All You Care to Enjoy Fish Fry Fridays in September.
Catch 35 Naperville
35 S Washington St., Naperville, IL 60540, 1-630-717-3500
Old Fashioned Cocktail
Bourbon on a big "rocks" with demerara syrup – a raw un-refined sugar with a molasses flavor – and cherry bitters.  Drink is garnished with orange & a Maraschino cherry.
Club Arcada 1920s Speakeasy and Restaurant
105 E. Main Street, St. Charles, IL  60174, 1-630-962-7000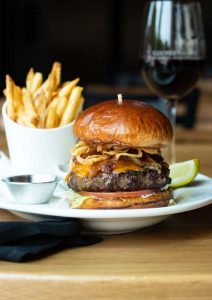 Roadhouse Burger
Bourbon Bacon Jam, Triple Cheddar, with Caramelized Onion Ranch Aioli.
Cooper's Hawk Winery & Restaurant
3710 E Main St., St Charles, IL 60174, 1-630-940-1000
Our Signature Craft Burger
Hand pattied slagel farms beef, tomato jam, bourbon caramelized onions, house made pickles, sharp cheddar cheese, toasted brioche bun and hand cut french fries.
Craft Urban
211 James St., Geneva, IL 60134, 1-331-248-8161
The EPH Wedge

A Wedge of Cold Iceberg Lettuce, topped with Grilled Chicken, Applewood Smoked Bacon, Grape Tomato, Bleu Cheese Crumbles, Onion Crisps and EPH Horseradish Thousand Island Dressing

Elgin Public House
219 E Chicago Street, Elgin, IL 60120, 1-847-468-8810
Italian Farm Salad
Leafy Greens | soppressata | onion | peppers | tomato | roasted cauliflower | aged provolone | olives | balsamic.
GIA MIA
3 N. 3rd Street, Geneva, IL 60134, 1-630-405-5544

Meat & Dairy Platter
Your upscale farm-to-fork dinner begins with a Meat and Dairy Harvest Share Board. Savor the Smoked Chorizo, Prosciutto, and Soppressata. Linger over your appetizer with Warm Baked Bread, Maytag Blue, Brie, and Gouda Cheeses. Delightful venues, delectable menus at Pheasant Run Resort

Harvest Restaurant at Pheasant Run Resort
4051 E. Main Street, St. Charles, IL 60174, 1-630-584-6300

Prime Grade Ribeye
La ZaZa Trattoria now offers nightly our Prime grade Ribeye steak grilled to perfection with a side of our roasted potatoes and sautéed vegetables. Come in and get one of the best steaks in Fox Valley with a bottle of Italian red wine every night of the week!
La ZaZa Trattoria
5 S. 1st Street, St. Charles IL 60174, 1-630-443-9304

Chef's Hot Hot Chicken 
Fresh Ricotta Biscuits | Crispy Buttermilk | Chicken Thigh | Calabrian Chilis | Maple Syrup | Smoked Prosciutto | Fried Egg.
Livia Italian Eatery
207 S. 3rd Street, Geneva, IL 60134, 1-630-402-6444
Fish & Chips
Guinness beer battered, fish, with homemade slaw, tartar sauce & mushy peas.
McNally's Irish Pub
109 W. Main Street, St. Charles, IL  60174, 1-630-513-6300

The "Cobb"
Mixed greens, cheddar blue buttermilk, salmon rillettes, beet pickled sweet corn, smoked bacon, radish, scallion, and soft egg.
Niche
14 S 3rd St , Geneva, IL 60134, 1-630-262-1000

Maple Brined Pork Tenderloin
Charred carrot risotto, roasted pearl onions, cherry chipotle glaze.

ROX City Grill
100 W. Main Street, St. Charles, IL 60174, 1-630-845-5800

Grilled Chipotle Fish Tacos
Tender, grilled chunks of tilapia lightly seasoned and cooked with fresh onions, tomatoes, cilantro and drizzled with our unique chipotle sauce.
Salsa Verde
1850 Lincoln Hwy, St. Charles, IL 60174, 1-630-444-0673
(Also has locations in Batavia, Oswego and Yorkville)

Cheesesteak Eggrolls
Filet Mignon, Sweet & Spicy Chili Sauce, Honey Mustard
Sullivan's Steakhouse
244 S Main Street, Naperville, IL 60540, 1-630-305-0230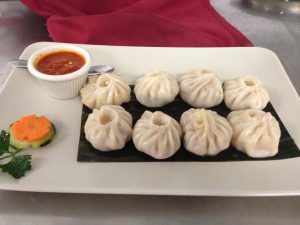 Chicken Mo Mo
Minced Chicken mixed with our own Nepalese herbs and spices stuffed in a thin flour wrap. Steamed and served with Nepalese Chutney.
Taste of The Himalayas
110 N. 3rd Street, St. Charles, IL 60174, 1-630-444-1575

Cajun Surf and Turf
14 oz Cajun Crusted Prime Ribeye Steak topped with Lousiana style bbq shrimp and accompanied by garlic mashed potatoes.
FoxFire
17 W State St., Geneva, IL 60134, 1-630-232-1369