Must try appetizers, entrees, desserts or cocktails available at local Fox Valley restaurants. 
Avocado Toast
Served with fresh fruit (fruit not pictured) Rustic multi grain bread, mashed avocado, organic arugula, heirloom tomatoes and balsamic glaze on top.
Brunch Café | 172 S 1st Street | St. Charles, IL 60174 | 1-630-940-2814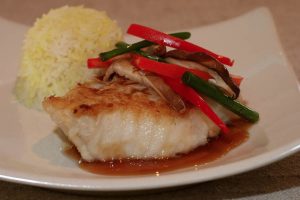 Chilean Sea Bass
Chilean Sea Bass with Hawaiian ginger scallion sauce Celebrate Chilean sea bass week with specially priced sea bass dishes available for a limited time-June 21st-June 30th at Catch 35 Chicago/Naperville!
Catch 35 Naperville | 35 S Washington St. | Naperville, IL 60540 | 1-630-717-3500
Old Fashioned Cocktail
Bourbon on a big "rocks" with demerara syrup – a raw un-refined sugar with a molasses flavor – and cherry bitters.  Drink is garnished with orange & a Maraschino cherry.
Club Arcada 1920s Speakeasy and Restaurant | 105 E. Main Street | Saint Charles, IL  60174
Chopped Deviled Eggs & Toast
Pickled Vegetables, Candied Bacon, Roasted Red Pepper, Avocado, Sweet Roasted Grape Tomatoes, Calabrian Chili Aioli.
Cooper's Hawk Winery & Restaurant | 3710 E Main St. | St Charles, IL 60174 | 1-630-940-1000
Baked Goat Cheese
Fresh goat cheese baked in marinara served with warm, toasted pit.
Elgin Public House | 219 E Chicago Street | Elgin, IL 60120 | 1-847-468-8810
Strawberry Balsamic Chicken Salad
Leafy greens | chicken | grapes | pecans | gorgonzola | strawberries | avocado | balsamic vinaigrette.
GIA MIA | 3 N. 3rd Street, | Geneva, IL 60134 | 1-630-405-5544
Braised Pork Belly
With Yukon Gold Potato Sticks, Red Cabbage Pickled Slaw, & Cauliflower.
Harvest Restaurant at Pheasant Run Resort | 4051 E. Main Street | St. Charles, IL 60174 | 1-630-584-6300
Steak Salad
Consists of 4 or 8 ounces of our Filet Mignon grilled to perfection over a bed of mixed greens, red onions, and Roma tomato wedges tossed in our house balsamic dressing topped with freshly shaved Parmigiano Reggiano. This week and everyday Mon-Fri for Lunch!
La ZaZa Trattoria | 5 S. 1st St.  | St. Charles IL 60174 | 1-630-443-9304
BBQ Chicken Flatbread
Sweet BBQ sauce | chicken | mozzarella | provolone | onions | corn | bacon | cilantro.
Livia Italian Eatery | 207 S. 3rd Street | Geneva, IL 60134 | 1-630-402-6444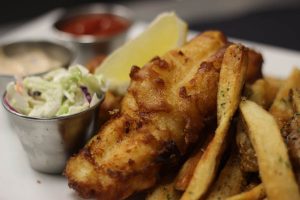 Fish & Chips
Fish & Chips – Guinness battered cod filets, fresh cuts fries, mushy peas, house slaw and tartar sauce.
McNally's Irish Pub | 109 W. Main Street | St. Charles, IL  60174 | 1-630-513-6300
Soft Shell Crab Sandwich
Everything spiced brioche bun, green papaya slaw, and kimchi seasoned root veggie chips.
Niche | 14 S 3rd St | Geneva, IL 60134 | 1-630-262-1000
Berkshire Pork Chop
Pan fried 12oz French cut pork chop seasoned with rosemary, garlic and ginger honey, served with house coleslaw.
Shakou St. Charles | 312 W Main Street | St. Charles, IL  60174 | 1-630-444-0850
Bone-In Filet 14 oz.
Select a complimentary sauce of your choice: Bearnaise, Bourbon Peppercorn, Bordelaise or Sullivan's Signature Steak Sauce.
Sullivan's Steakhouse | 244 S Main Street | Naperville, IL 60540 | 1-630-305-0230
Chicken Mo Mo
Minced Chicken mixed with our own Nepalese herbs and spices stuffed in a thin flour wrap. Steamed and served with Nepalese Chutney.
Taste of The Himalayas | 110 N. 3rd Street | St. Charles, IL 60174 | 1-630-444-1575