Geneva company is consistently named one of the best places to work and recently rewarded its employees with a bonus of $2500 for each year of employment
Great Place to Work (Fortune Magazine):
#1 workplace in Nation for Manufacturing/Production, small/medium, 2020
#5 workplace in Chicago, small/medium, 2020
#77 workplace in the nation, small/medium, 2019
#8 workplace in Chicago, small/medium, 2019
#2 Workplace in Manufacturing & Production small/medium, 2019
#3 workplace in Manufacturing & Production, among companies of any size, 2018
#2 workplace in Chicagoland, out of all small-medium businesses, 2018
Great Place to Work for All – Leadership Award, 2018
#58 medium-sized workplace in the nation (#2 in manufacturing!), 2018
#85 workplace in the nation for Millennials, 2018
#44 workplace for women in nation, among companies of any size, 2017
Inc. Magazine
Best Workplace in the Nation, 2019.
Forbes Magazine
Best & Brightest Companies to Work For
National Winner overall – 9 years in a row
Elite Winner, Chicago – 15 Years in a row (Most Recently: Strategic Company Performance)
Chicago winner, 15 years in a row
National Winner, Wellness – 6 years in a row
Chicago Tribune:
Top Workplaces in Chicago (#8, small category), 2017
Food Quality & Safety Magazine
15th Annual Food Quality & Safety Award, 2016
Fox Valley Entrepreneurship Center
2016 Community Business of the Year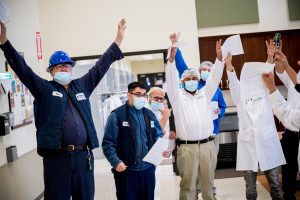 Fox Valley Magazine: When was FONA International founded?
Deirdre Burgess, Director of Corporate Communications: 1987
Fox Valley Magazine:  What are FONA's Seven Core Values?
Deidre Burgess: We seek a diverse work force — unique in ideas, thoughts and backgrounds. Everything FONA does is founded in our core values:
-Do the Right Thing
-Demonstrate Passionate Partner-Centricity
-Nurture a High-Performance Work Environment
-Steward Resources Effectively
-Invest in Growth and Innovation
-Share Generously with Our People and Community
-Outperform Our Industry.
These are the valued, traditions and deeply held beliefs that drive our success. These include: our 2×4 growth mandate (Doubling our business every four years.); Our dedication to excellence (rather than perfection); our commitment to being high tech AND high service (high tech, high touch); investment in good name and reputation; seeking and retain "willing, able and growing" employees to serve "willing, able and growing" customers; and the FONA Triangle with three sides: customers, employees and stakeholders.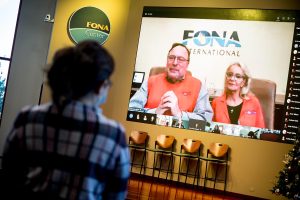 Fox Valley Magazine: Could you tell us about the recent purchase of fogging equipment and how your executives took the lead in disinfecting your entire facility during off hours?
Deirdre Burgess: In early March, FONA appointed a cross-functional team to organize and implement FONA's response to the global pandemic. As a critical part of the global food supply, FONA needed to remain open – but safely. From hygiene supplies to social distancing measures, travel restrictions to employee care, the pandemic preparedness team served and continues to serve an important purpose: to keep FONA's employees and business safe, healthy and protected. An especially noteworthy part of this initiative is the team of volunteer "Ghostbusters". Early on sanitizing fogging machines were purchased. This team of foggers needed to get moving, fast. The first to volunteer on the front lines was the Executive Leadership team. With these executives leading the way to fog the entire facility, other employees from all across the business joined in to volunteer. Soon, a regular rotation was established at night and on weekends to implement regular fogging sanitation of the full facility. The "Ghostbusters" are just one part of FONA's comprehensive pandemic response, but an innovative one.
Fox Valley Magazine:  Who was recently called the "Betsy Ross" of masks at FONA?
Deirdre Burgess: FONA's receptionist Joyce McArdle has been called the "Betsy Ross" of making masks at FONA. Early on in the pandemic, face masks for personal use were in short supply. So, Joyce brought in her sewing machine and worked tirelessly right at the front desk to sew masks for FONA employees and their families. She led the way, but others around the business including Lindsey Clark on the Human Resources team sewed masks for the FONA Family.
Fox Valley Magazine:  How many employees do you currently have?
Deirdre Burgess: 224
Fox Valley Magazine:  What is the average tenure?
Deirdre Burgess: 7.75 years with a number of employees with FONA more than 20 years.
Fox Valley Magazine:  FONA International is regularly name one of the best companies to work for. What do you attribute it to?
Deirdre Burgess: The FONA vision from the very beginning can be summed up in one word: growth. Growth in the business and growth in our people. Growth through education and growth through fulfilling lives and livelihoods for everyone in the FONA family. We want our people to thrive as themselves, and learn and grow each day. We firmly believe growth in the business comes because of personal and professional growth in our people. That is why FONA boasts record-setting employee engagement rates, and continually wins awards for culture and engagement.
From the very beginning, FONA made the growth of its people a priority. Our founder Joe Slawek recognized that to lead the industry, to develop partners not customers, and to truly dare to be different, he needed to find, engage, grow, support, encourage, inspire, and value the best.
Our history shows that we have walked the walk. Our core values have been the essential focal point. They are displayed, known, shared, discussed, and ingrained in all activity. And what's more: every facet of the business gets an equal voice.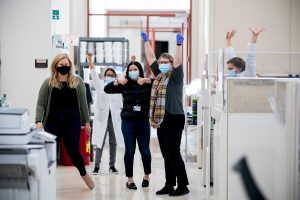 Fox Valley Magazine:  How did the idea come about to give your employees a bonus this year?
Joe Slawek, Founder:  For years, I have ended every employee meeting with the same words to FONA employees: "I'm grateful and indebted to each of you." This gift was a way to pay back some of that debt we owe the FONA Family. When excellent performance and teamwork led to a profitable year, myself, Mary, and the rest of the Slawek Family knew that we wanted to put that profit back into the business. What better way than to recognize the incredible work of the FONA Family? … The reason for the gift is not simply to be generous – but also to be generative. It generates and creates value for each employee's family, in each employee's community. It lives on in many ways. And, it was a lot of fun!
Fox Valley Magazine:  How did you decide on the amount of $2500 for every year of employment?
Deirdre Burgess: The plan was to distribute a 7.1 million dollar distribution across all employees – the number is significant because Joe Slawek turns 71 this year.
Fox Valley Magazine:  How did the employees react when they heard the news?
Deirdre Burgess: FONA employees reacted with joy and amazement. There were tears shed and high fives given. Many employees wrote into the virtual chat with their thanks and gratitude. Employees also put together a video where each employee shared their personal thanks with the Slawek Family. That video led to even more happy tears.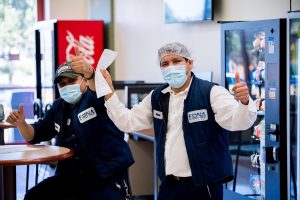 Fox Valley Magazine:  Any stories you can share on how the bonuses directly improved the lives of particular employees.
Deirdre Burgess: One employee paid off her student loans. Another said that her family was able to make the decision to finally adopt a child. Another had just bought a house and was able to cover the cost of repairs, relieving anxiety. Another employee had a spouse who was furloughed for much of 2020 and with kids leaving for college, the gift eased an enormous amount of stress. House repairs, fitness equipment, washing machines, college tuition, car payments, Christmas presents – employees reported that the impact of the gift was life-altering, in a multitude of ways.
Founded more than 30 years ago, FONA creates and produces flavors for many of the largest food, beverage, and nutritional companies in the world. A unique proposition in the flavor industry, FONA prides itself on a high-tech, high-touch vision — helping customers grow through both cutting-edge technology and personal customer service. FONA offers flavor solutions for a huge range of markets from its state-of-the-art, 33-acre campus in Geneva, IL. FONA's seven core values drive it to pursue excellence and foster incredible partnerships. More than just great flavors – FONA provides complete market solutions.