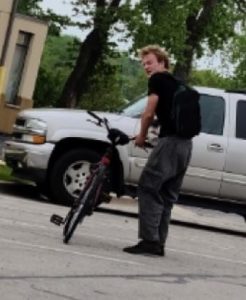 Batavia police are on the lookout for a suspect in a knife-related event in Batavia this morning.
The suspect is described as a white male, approximately 25 years of age, with shaggy blond hair and wearing a black t-shirt, gray jeans and black shoes.
Police were dispatched to the 100 block of Shumway Avenue in Batavia at about 10:39 AM to address a report of a subject threatening people with a knife. It was reported that a male subject confronted two construction workers who were working in the area. Unprovoked, this subject approached the workers and began yelling at them while brandishing and threatening them with a knife.
The subject then got on his bicycle and rode southbound towards the bike path. Later, an unrelated female victim reported being screamed at by a similarly described subject as he rode southbound on the bike path in the 1300 block of South River Street.
One of the construction workers was able to capture some pictures of the suspect. Batavia Police are seeking the assistance of the public in identifying this subject. If you observe this subject do not approach him and call 9-1-1 immediately.
Subject is believed to be armed and dangerous.
Anyone having information regarding the identity of the pictured suspect is asked to call the Batavia Police Investigations Division at (630) 454-2500.