Must try appetizers, entrees, desserts or cocktails available at local Fox Valley restaurants. 
Brisket Quesadillas
Filled with Brisket that has been smoked all day, melted Chihuahua Cheese hand-made garlic aioli, sautéed sweet corn, onions and peppers.
1910 Geneva
30 W. State Street, Geneva, IL 60134, 1-630-845-9100
Maine Lobster Rolls
All you care to enjoy Maine lobster rolls every Friday in August at Catch 35! "Our Signature," minced celery, easy mayo, Old Bay – served with French fries, coleslaw, cheddar & chive biscuits.
Catch 35 Naperville
35 S Washington St., Naperville, IL 60540, 1-630-717-3500
Salted Caramel Crème Brûlé
Fresh berries and flaky sea salt. Pairs with our Cooper's Hawk Lux Ice Wine.
Cooper's Hawk Winery & Restaurant
3710 E Main St., St Charles, IL 60174, 1-630-940-1000
Seasonal Hand Packed Craft Sundaes
Available every day during each meal period. the options offered change with seasons.
Craft Urban
211 James St., Geneva, IL 60134, 1-331-248-8161
The Blacklist
"Have you seen our new drink menu yet? This is the Blacklist: Makers Mark, Benedictine, sweet vermouth, orange bitters and a Luxardo cherry. Goes great with our Friday fish fry."
Elgin Public House
219 E Chicago Street, Elgin, IL 60120, 1-847-468-8810
Watermelon + Feta Salad
Arugula | watermelon | tomato | cucumber | radish | feta | balsamic basil vinaigrette.
GIA MIA
3 N. 3rd Street, Geneva, IL 60134, 1-630-405-5544
Lobster Ravioli
Decadent lobster ravioli coated with lobster cream sauce, lightened with heirloom tomato relish and paired with crunch garlic crostini.
Harvest Restaurant at Pheasant Run Resort
4051 E. Main Street, St. Charles, IL 60174, 1-630-584-6300
STC SMASH
This is a whiskey cocktail with lemon, fresh mint and ginger beer. Come try one of our summer cocktails today on one of our two patios! Arrivederci!"
La ZaZa Trattoria
5 S. 1st Street, St. Charles IL 60174, 1-630-443-9304
Hoison Pork Chops
2 – 7oz marinated chops | whipped potatoes | asparagus.
Livia Italian Eatery
207 S. 3rd Street, Geneva, IL 60134, 1-630-402-6444
Corned Beef & Cabbage Rolls
Potatoes, mozzarella and provolone served with a thousand island dip.
McNally's Irish Pub
109 W. Main Street, St. Charles, IL  60174, 1-630-513-6300
Caramelized Parisenne Gnocchi
Roasted porcini mushrooms, fava beans, wilted spinach, red wine pickled pearl onions, garlicky lemon cream, pine nut aillade.
Niche
14 S 3rd St , Geneva, IL 60134, 1-630-262-1000
Miso Glazed Chilean Seabass
Jasmine rice, baby bok choy, pickled onions, crushed peanuts.
ROX City Grill
100 W. Main Street, St. Charles, IL 60174, 1-630-845-5800
Torta Al Pastor
Tender marinated pork chunks cooked traditionally along onions and pineapple and made into a sandwich with shredded lettuce, tomatoes, sour cream and our spicy chipotle and avocado aioli.
Salsa Verde
1850 Lincoln Hwy, St. Charles, IL 60174, 1-630-444-0673
(Also has locations in Batavia, Oswego and Yorkville)
The Knockout Martini
Our Signature Martini: SVEDKA Clementine Vodka Infused with Fresh Golden Pineapple
Sullivan's Steakhouse
244 S Main Street, Naperville, IL 60540, 1-630-305-0230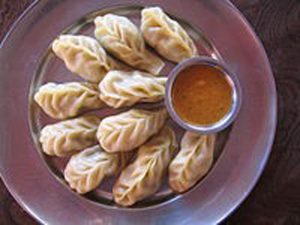 Mountain Kingdoms of Nepal
Minced chicken mixed with our own Nepalese spices and herbs stuffed in a thin flour wrap, steamed and served with Nepalese Chutney
Taste of The Himalayas
110 N. 3rd Street, St. Charles, IL 60174, 1-630-444-1575
Grilled Salmon Crunchy Basil
Grilled Salmon fillet topped with mild sweet chili, bell pepper and fried basil leaves. Served with jasmine rice.
Vinothai
3825 E. Main Street, St. Charles, IL 60174, 1-630-443-8461